Commercial Services
Quality You Can Trust for Your Business
At Apex General Contracting, our team ensures we get the job done right the first time by using the most advanced technology.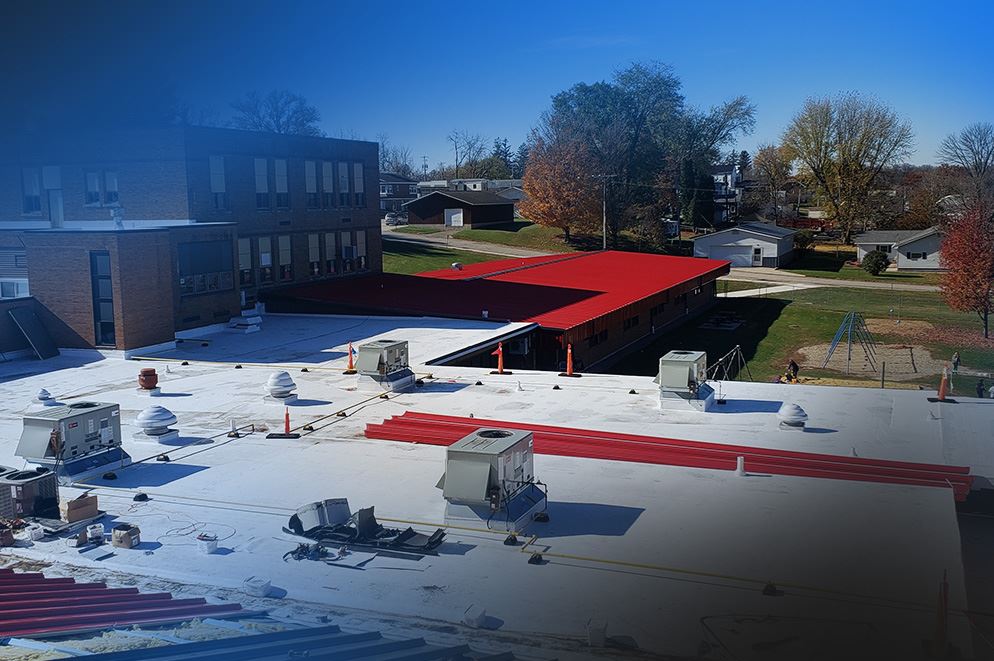 Rockford Commercial Roofing Services
Nationally Recognized Roofers Serving Businesses in South Beloit, Roscoe, & Beyond
When it comes to commercial buildings, a damaged roof can cause more than just an eyesore. A broken, leaking or otherwise damaged roof can have serious consequences for the business inside and its customers. From creating an unsafe work environment to lowering productivity and hurting your image in the community, there are many reasons why you should take care of any issues with your commercial roof as soon as possible.
That's where Apex General Contracting comes in. With decades of experience in the roofing industry, our contractors are nationally recognized for their expertise and knowledge. We've made many beneficial relationships over the years with local businesses, becoming trusted to get the job done right. Our services include but are not limited to: repairs, maintenance, installations, and more.
We understand that emergency roof repair is unpredictable and time-sensitive; that's why we make ourselves available 24/7, no matter what day or time it is! When you need us most, we'll be there to help protect your property –– and business –– from further damage.
If you own a commercial building in Rockford, South Beloit, Roscoe, or elsewhere, don't hesitate to get in touch with Apex General Contracting for reliable roof repair services. Our experienced commercial roofers are here to help you maintain a safe and secure working environment for your employees and customers.
Signs Your Business Needs a Commercial Roofer
When it comes to commercial buildings, a damaged roof can cause more than just an eyesore. In many cases, the damage is not always obvious and may worsen over time as weather conditions change. This can be concerning for business owners who need to ensure their customers and employees are safe in the workplace.
Common signs of needing commercial roof repair include:
Missing or Broken Shingles: If you notice missing shingles on your roof, it's a sure sign that something is wrong. Not only does this create an eyesore, but it also leaves your building exposed to the elements and can worsen over time as weather conditions change.
Leaks and water damage: One of the most common signs of roof damage is water damage or leaks in the ceiling. This may be due to broken seals around skylights, loose flashing, damaged gutters, or other factors that may lead to water seeping into your building's interior. Make sure to address any such issues immediately before they cause further damage.
Excessive granule loss: Asphalt shingles are composed of several layers which contribute greatly to their durability and resilience against extreme temperatures and precipitation. However, if you notice excessive granule loss from these shingles –– particularly after a major storm –– then it could mean they were not properly installed or have reached the end of their life span and need replacing sooner than expected.
Fungal growth: Over time exposure to moisture can cause fungus growth on certain parts of your commercial roofing system - typically in low-lying areas where drainage is minimal. This issue can be quickly addressed by our experienced commercial roofers and should be taken care of as soon as possible to prevent further damage.
Unexplained high energy bills: If you've recently noticed your energy bills going up for no apparent reason, it could be due to a damaged roof. A poorly installed or aged roof will not properly insulate your building from the outside, resulting in higher energy costs.
If you have noticed any of these signs, don't hesitate to get in touch with the experts at Apex General Contracting today. Our team can perform a detailed inspection of your roof to determine whether it can be repaired or needs a full or partial replacement. We offer fast, reliable service that will ensure your commercial building is secure for years to come!
Call (779) 223-0354 or contact us online today for a free estimate. We look forward to hearing from you!
Why Choose Apex General Contracting?
What Makes Us Different
Serving South Beloit, IL Since 2006
24/7 Help Available

No matter when you need us, we're ready to help.

Ask About Our Warranty

Talk to our team about our roofing services warranty!

Available for Emergency Help

Don't sit around and wait for roofing services. We're here for you!

Licensed & Insured

Entrust your restoration needs to licensed, insured professionals.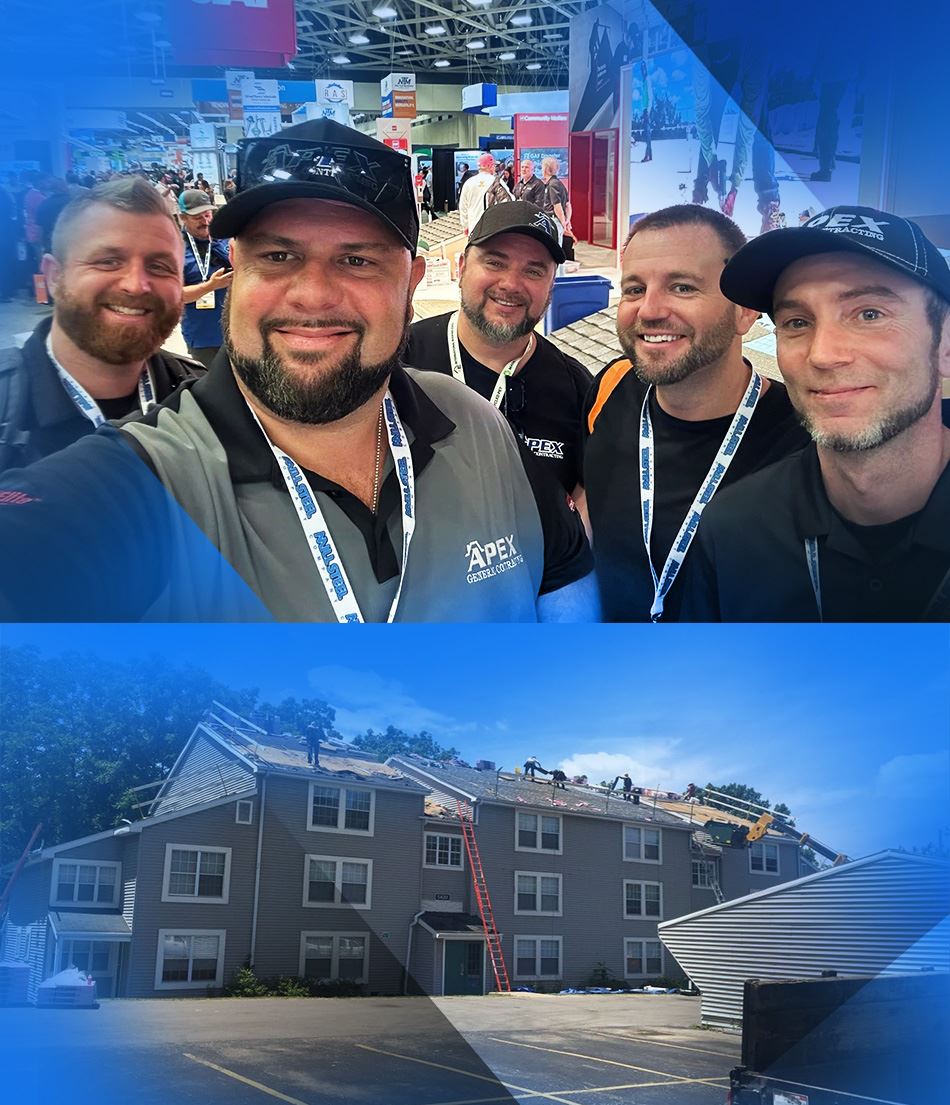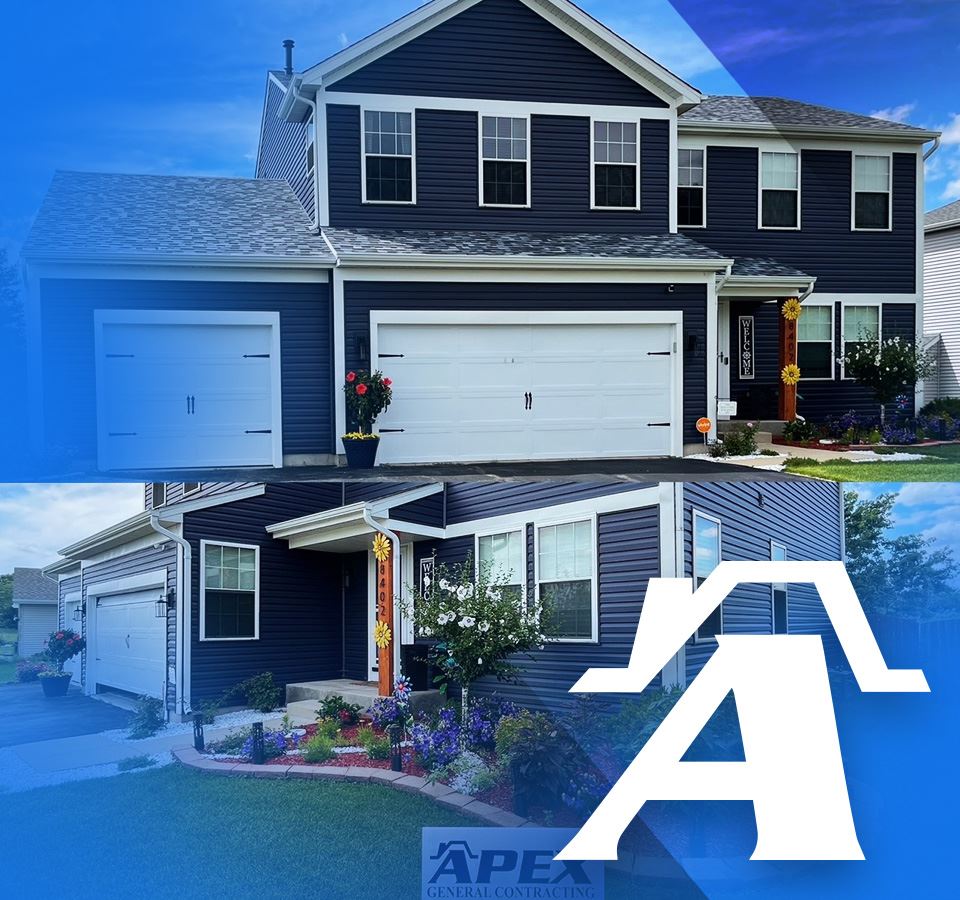 Types of Commercial Roofs We Can Install
Are you looking to refresh the look of your commercial property? Investing in a new roof installation could be the perfect solution. With a wide range of materials and styles available, there's something to suit any budget or aesthetic preference. Whether you're looking for a classic shingle roof or something more unique like metal panels, Apex General Contracting can help with all your commercial roofing needs!
Some of the options we can install:
Asphalt shingles: One of the most popular options due to their affordability and versatility. Asphalt shingles come in an array of colors and styles that can complement any building exterior.
Metal panels: A great choice if you're looking for durability as these are highly resistant to wind, hail, fire, and other extreme weather conditions. They also reflect heat which helps reduce energy costs during summer months.
Modified bitumen roofs: This type of flat roof is composed of several layers which give it additional protection against water leaks while also providing superior insulation capabilities compared to other materials such as asphalt shingles or metal panels. It's also cost effective when it comes time for repairs or maintenance down the line!
Single-ply membranes: Ideal for commercial buildings with low-slope roofs, these membranes are made up of synthetic rubber or modified plastic that provides superior protection against water leaks and UV rays.
No matter what type of roof you're looking for, Apex General Contracting is here to help with all your commercial roofing needs! Dial (779) 223-0354 or contact us online today to get started with a free estimate.
Hear From Our Happy Customers
Our Testimonials
At Apex General Contracting, your satisfaction is our priority! See for yourself what people have to say about working with us.
"I am truly great full to have such an awesome agent!!!"

I will strongly recommend them to anyone I know needing work done on their home. I give a big "Hats off" to David, he went above and beyond for me and my family!

- Robert Running

"5 stars from me"

I ended up being blown away with how every employee in each department was so enthusiastic to help.

- Gregg Graycarek

"Would definitely recommend the business to anyone needing repairs or installations."

Customer service was excellent and the crews were friendly and courteous.

- Joyce Boss

"He followed through with the insurance company to make sure that the claim was processed properly and covered all damages."

I was very impressed with the projects that was done at my home!

- Nancy Rosmos